By Purpose
Classification / separation
URETHANE SCREEN
WHAT IS URETHANE SCREEN?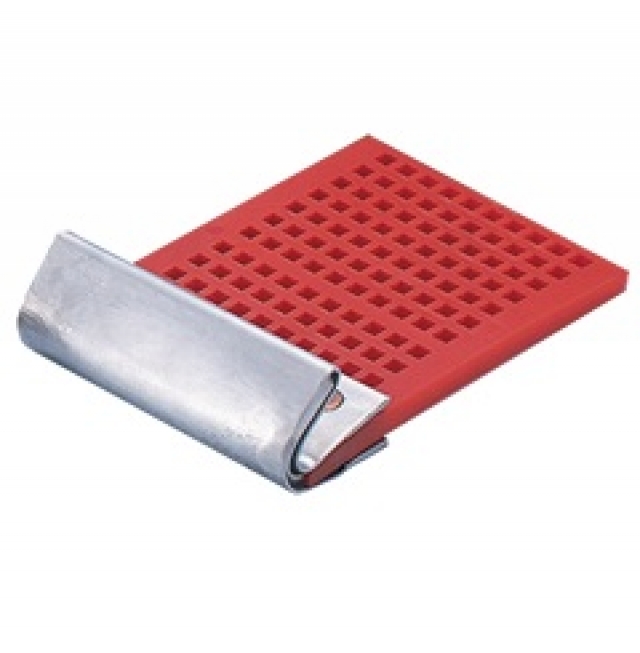 This product is the screen which is formed of polyurethane on a metallic mould to make meshes.
It is easy to handle because of its lighter weight than hard steel wire and stainless steel wire. And it is well received as labour-saving and resource-saving sifting screen in various industries including stone quarrying, since it lasts longer than the woven wire screen because of its superior resistance against wear and tear.
FEATURES OF THE URETHANE SCREEN
1.LESS BLINDING AND HIGH SIZING EFFICIENCY
Less blinding or clogging, and high sizing efficiency have been made possible by the secondary vibration resulting from urethane's flexibility.
2.SUPERIOR RESISTANCE AGAINST WEAR AND TEAR
Much longer lifetime as compared with the conventional woven wire screen has been made possible by the use of polyurethane resin. Furthermore, it is of a sufficient strength as a result of reinforcement cords to be attached by welding on its back.
TYPES OF THE URETHANE SCREEN
URETHANE SIEVE SCREEN

G-System Polyurethane Sieve
"G" means Gravel and this product deals with coarser classification or sizing. It was developed to make its lifetime longer at the frequent requests from the stone quarrying industry.
URETHANE SCREENS OF SPECIAL SPECIFICATIONS
Urethane Rope Screen
The applicable wire rope is covered with a layer of urethane. This product is suitable for such processing materials as are powdery with a high water content and therefore are prone to stick to the screen.
ENVIRONMENTAL CONTROL EQUIPMENT
We prepare various kinds and sizes of equiment that are used in a wide range of uses such as solid/liquid separation, concentration, dewatering and cleaning and help to create the better environment.