By Purpose
Classification / separation
MASTER 'BUNTAROH'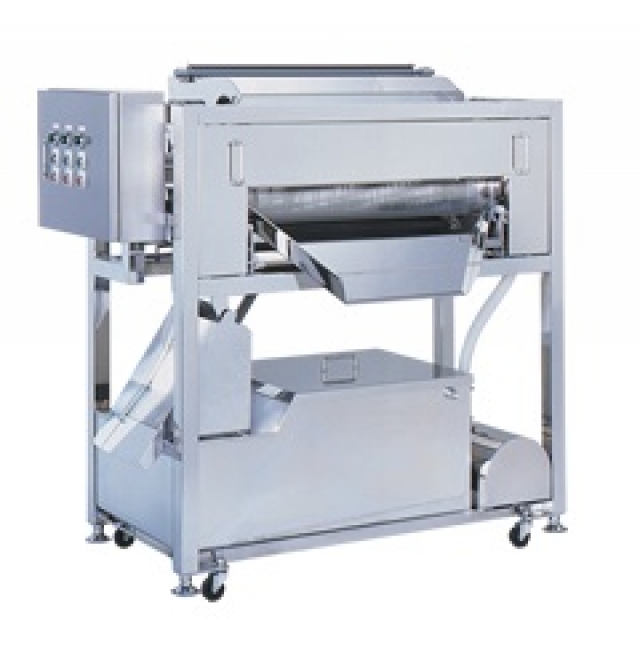 FOOD PROCESSING EQUIPMENT

This is a water-current system unit for removing foreign particles (lightweights such as

hairs and waste thread) out of food materials.
It can handle them more quickly and collect more foreign particles than handpicking in food processing plants.

※Its appearance, specifications, etc. may be changed without notice as a result of modification and renovation.
MECHANISM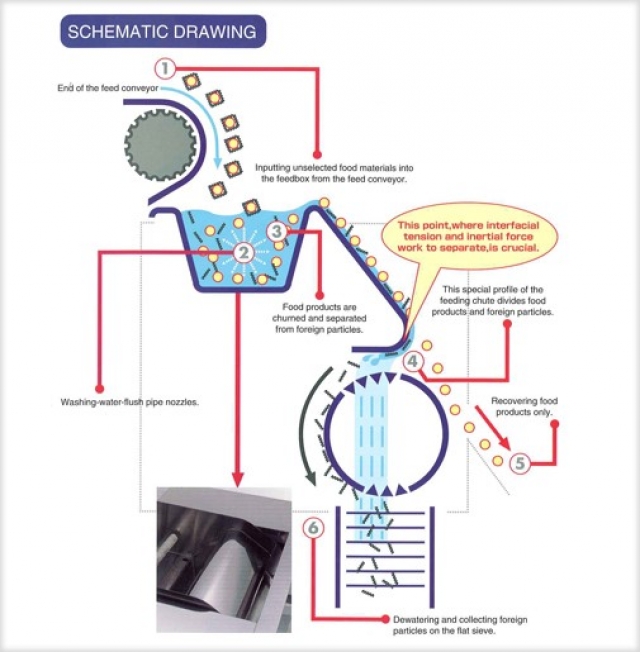 APPLICATION
Seafoods
・peeled shrimp,・short-necked clams,・corbiculas,・clams,・ark shells,・scallops,・oysters,・cuttlefish (cut),・octopuses (cut),・others.

Whole or Cut Fruits
・grapes,・pineapples,・peaches,・oranges,・apples,・cherries,・blueberries,・others.

Mushrooms and Wild Plants
・nameko fungi,・black mashrooms,・champignons,・agarics,・matsutake mushrooms,・brackens (cut),・bamboo shoots (cut),・Jew's ears,・butterburs,・Japanese pepper,・others.

Beans
・soybeans,・adzuki beans,・big broad beans,・green soybeans,・kidney beans,・others.

Others
・coconut fibre cubes,・devil's-tongue jelly,・jelly pieces,・pickled ume,・scallions,・garlic,・lotus root (cut),・others.

※Since there are other food materials the equipment can process、please feel free to inquire of us.
※We are ready to demonstrate its performance using a testing unit on request.
TYPICAL OPERATION (CASE OF PEELED SHRIMP)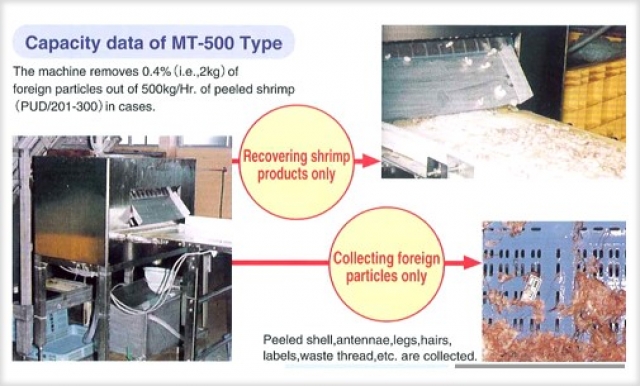 OUTER DIMENSIONS (mm)
| TYPE | Width | Height | Length |
| --- | --- | --- | --- |
| MT-500 | 1250 | 620 | 1380 |
| MT-700 | 1520 | 620 | 1380 |